You can switch to Classic editor by installing Classic Editor plugin in WordPress.
From 'Writing' settings, you can set the default editor Classic or Block editor.
You will also have the option to enable disable editor switch in 'Writing' settings.
You already get hints in above overview points, now let's check complete switch to Classic editor process in detail.
Following are steps to switch to Classic editor in WordPress.
Install Classic Editor plugin from WordPress admin.
Activate Classic Editor plugin.
Manage Classic Editor related settings from 'Settings > Writing' page.
Next, check out the following things regarding Classic Editor settings.
When you activate the Classic editor plugin, it automatically set Classic editor as your default editor.
You can manage editor related settings from the 'Settings > Writing' page.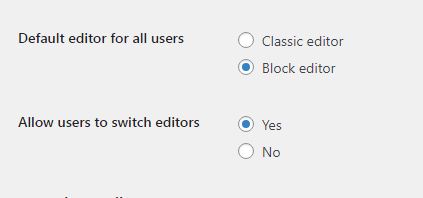 Now, let's understand WordPress Classic editor settings.
Default editor for all users:
You can set the default editor for an add or edit post page. It can be Classic editor or Block editor.
Allow users to switch editors:
If this setting is set to 'No', then all users need to use the default editor.
And, If it set to 'Yes', then users get Edit (block editor) | Edit (classic editor) options below every post to edit.
This setting is applicable for edit posts only, and for the add new post, you will always get the default editor.
At Last,
Based on Classic editor support and change in technologies, It looks Classic editor is in their sunset phase. So, it is good practice to accept Block editor.