The Blogger post editor does not have rich features like WordPress post editor. But, Blogger's post editor allows you to add HTML code directly to post content.
Before continuing for a solution, check out the following post editor views information.
Blogger post editor has 2 different modes. First is "Compose view" and second is "HTML view".
Compose view is a visual editor where you can edit and view post content visually. This view mode is default in Blogger posts.
HTML view does not display visual content and requires basic HTML code knowledge. In this mode you can manage page content with HTML code tags.
Now, let's check out steps to add HTML code in a Blogger post editor.
Open add or edit post page in Blogger.
Change post editor mode to "HTML view" from editor toolbar.
Add your HTML code in post.
For more understanding, following image given which shows editor tool icons and post editor mode options.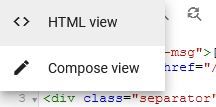 That's it,
Hope, you find this guide helpful.