Complete tutorial for Elementor posts pagination. You will learn about Elementor posts widget pagination. Topics covered in this post are, How to enable posts pagination and change its style.
You can create the best homepage design with Elementor grid posts and pagination using a given tutorial.
Posts pagination default not enabled with posts widget. And, because of this, new plugin users do not get a quick idea about pagination.
Let's add and manage posts widget pagination.
Elementor Posts Pagination WordPress:
How to Add Posts Pagination in Page Using Elementor?
Elementor posts pagination is part of posts widget (pro). Pagination setting value is "None", when you add posts widget in section. Pagination settings used to paginate the results. To add pagination in Elementor posts widget, go to post widget's "Content tab" and set Pagination's value "Numbers", "Previous/Next", or "Numbers + Previous/Next".
Pagination will show below the posts list, once you set pagination's value other than "None".
You can add pagination to posts list, archive list; category posts list and other possible WordPress posts list sections.
Can I add multiple pagination in WordPress page using Elementor? Yes, you can add different posts widget in page and add pagination for all widgets.
You will get the following pagination settings in posts widget content tab. These settings help to manage pagination bar content and position.
Pagination: This is an option to enable pagination for posts list. Available options for pagination format are Numbers, Previous/Next, or Numbers + Previous/Next. You can set option "None" to disable pagination from posts widget.
Page Limit: You can set a page limit for pagination. For that, you need to add limit number in this option. For example, 10 or 100 or more than 100.
Shorten: This option is to make pagination short. You can display short pagination with limited page number options.
Alignment: From alignment option you can set position of posts pagination. Left, center and right are possible positions.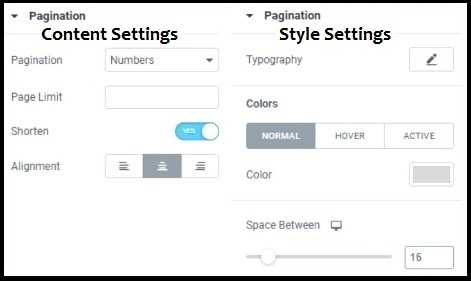 How to Customize Elementor Posts Pagination Style?
You can customize posts widget pagination style from widget's "Style" setting tab. Elementor gives Typography, Colors and Space setting options to customize pagination.
From pagination style settings, you can change typography, set link color (normal, hover, active) and manage space between posts & pagination.
Elementor Posts Pagination Not Working: Possible Reasons and Solutions
Is Elementor posts pagination not working for you? Following are some possible reasons and solutions.
WordPress update: WordPress updated to new version and pagination process has conflict. For solution, you can contact the support team with error details.
Plugins conflict: Issue starts after updating or adding a new plugin in site. In this case, you can deactivate such plugins and try to find a solution from the plugin's detail page. You can also search an error message in Google for other possible solutions.
Pagination limit: Deference between WordPress posts limit and Elementor posts limit may create issues. Here, you can change WordPress posts limit from "Settings > Reading" page.
That's it.
Above is a simple tutorial or guide for WordPress Elementor plugin's posts widget pagination. Hope, you will find your solution from this post.