You will get two solutions for MozBar Chrome Extension. First, how to use MozBar extension in Chrome incognito mode and second is solution for MozBar not working issue.
Let's check out both solutions one by one.
How to Use MozBar Extension in Chrome Incognito Mode?
Open Extensions page in Chrome.
Go to MozBar extension and click the "Details" button.
From the details page enable "Allow in incognito" option.
When you are done with the above change, MozBar will also be available in incognito mode.
Quick answer:
MozBar extension can be enabled for Chrome incognite mode from MozBar extension's "Allow in incognito" settings.
MozBar Not Working and Asks For Login in Incognito Mode
Following are steps which help to fix MozBar not working issues. MozBar issue where you already logged in to Moz.com but MozBar not showing data and asks for login.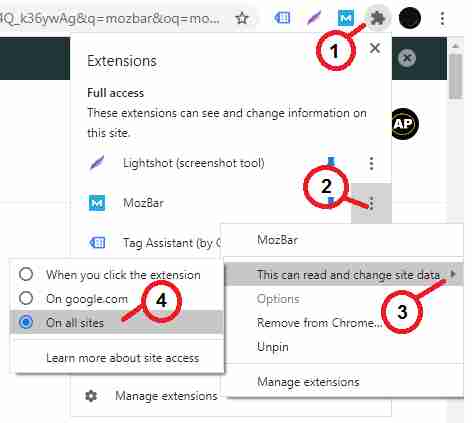 First of all close the Incognito mode browser.
Make MozBar extension off by clicking MozBar icon.
Allow MozBar to access "On all sites".
Now, open any site and make MozBar on.
Next, login to moz.com, if not already logged in.
Reload your page now; MozBar will work in normal mode.
Open incognito mode (Ctrl+Shift+N) from normal tab.
Now, MozBar will work in Incognito mode.
Quick answer:
You can fix MozBar extension always asks for login issue by allowing "On all sites" access permission to MozBar.
At Last,
If you are a beginner user for MozBar extension, then moz.com help page has a detailed guide for you.