Astra theme provides the option to manage footer copyright block. This option is available in free and pro both versions. This post explains the use of customize Astra copyright block to remove "Powered By Astra WordPress Theme" text from footer.
In most cases, theme users do not remove this theme credit line to say thank you to the theme publisher. But, in some types of sites, it will be required to remove this credit line.
So, here is a complete guide to remove Astra theme credit line from footer.
Let's get started,
1. Open Astra theme customization page
To open this theme customization page, first open your WordPress site admin dashboard.
Next, move the cursor arrow on the "Appearance" option. When you move the arrow, you will get a sub option list.
From this Appearance sub options, click on "Customize" option.
You are now on the Astra theme customization page.
2. Click on Footer Builder option
Astra theme footer settings are available under the "Footer Builder" option. So, click this option from the customization option list.
This "Footer Builder" is available in the left sidebar.
3. Click on Copyright element from footer blocks
In Footer Builder you will get the footer blocks container on the right side. And, in this container you will find a Copyright element by default.
This element looks like the image below.

You need to click on this Copyright element setting button.
Note: if you want to remove copyright section completely in Astra theme, then click on remove icon (x) and publish your change. In this case, ignore step 4.
4. Remove powered by text and publish change
When you click on the Copyright element setting button, the page will display the element setting form in the left sidebar.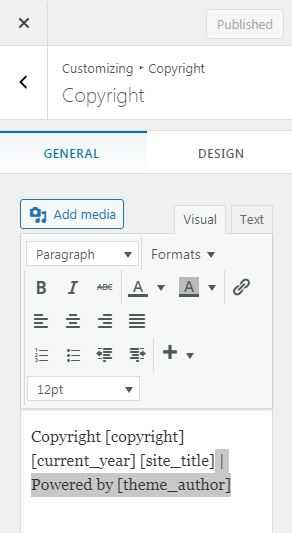 Here, in copyright setting form remove " | Powered by [theme_author]" text. After removing text, check your change preview in the right sidebar.
After confirming the change in preview, click the "Publish" button.
That's it,
Now, you have successfully removed powered by Astra theme text from your site.