Research tab – YouTube new feature update for search insights. This new feature will help YouTube creators to understand what their audience is looking for.
In this post, you will get information about this new YouTube Research Tab feature.
Let's get started,
What is the Research tab in YouTube Studio?
YouTube Research tab is a search insights tool. You can use this tool to find some of the top searches on your channel and on YouTube platform. You can also know about content gaps (gap between viewers looking for and results they received).
This feature is currently in the experimental phase. but, it will be very easy for all creators to explore what people are searching on YouTube, once it is available for all.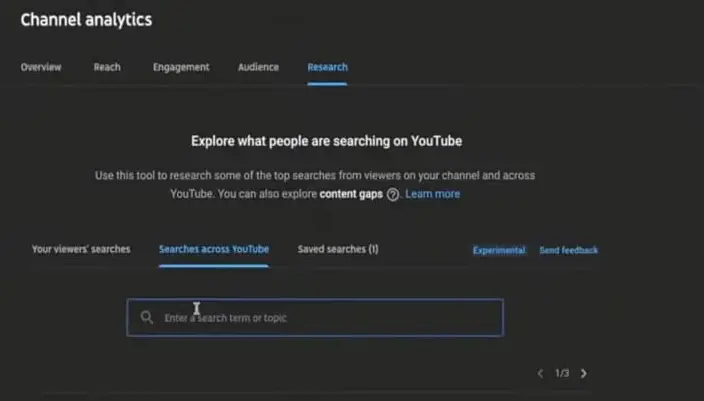 What things can I know from the YouTube Research tab?
Following are insights list, which you can know from the YouTube Research tab.
Your visitor's searches
Searches across YouTube
Saved searches
Things available in Research tab search results:
When you search any keyword in Research tab search options, in search results, you will get Keyword(s), Search volume on YouTube, Views for your channel in the last 28 days.
With each result keyword(s), you will also get the option to check content gaps for that keyword.
Where can I find the Research tab in YouTube Studio?
You can find the Research tab from YouTube Studio's channel analytics page. Research tab is available beside the "Audience" tab in the channel analytics page.
Why is the Research tab not available for my channel?
Currently the Research tab feature update is in the experimental and testing phase. So, it may be possible that this feature is not available for all creators.
But,
Once this feature is released, you will get all the benefits of the amazing Research tab feature.
How does the Research tab help to get more views and traffic on the channel?
It's simple,
Research tab is a search insight tool that helps to find viewers interest with search keywords. And, by using real user search keywords, search volume and content gaps data, you can easily plan your content topics.
And,
Quality content prepared based on real viewers requirements will help to get more views and more traffic on your channel.
All in all, this new YouTube Research tab feature is your free video topic research tool with real user search data.