Website or blog's AdSense revenue is dependent on various factors. Sitewise AdSense earning is vary based on site age, content, audience, applied practices and many other things.
If you are a Google AdSense user, experiencing low earnings and looking for best practices to increase AdSense earnings, then you are not alone.
All bloggers come into this situation where they want to increase ads RPM, CTR and CPC. Most beginner bloggers after 2 weeks of AdSense approval comes in this situation.
I also faced this situation in the past and currently understand your condition. So, based on ad monetization experience prepared the following list of best practices. This list will help you to apply best practices and increase AdSense earnings.
How to Increase AdSense Earnings (Best Practices):
1. Choose ad size wisely
Google AdSense ad unit ad size really matters for site UI, earning factors (RPM, CTR, CPC) and core web vitals metrics. Ad size selection based on ad location and site layout gives good results for all things(UI, Search, Earnings).
You will get two options in Google AdSense for ad units (Auto ads and manual ad unit). You need to implement ads wisely by using these two options.
For AdSense auto ads, you do not need extra action, but in some cases auto ads show ads in some areas which disturb site layout. For example, ads below or above the main menu, vertical ads in the footer section.
Now as a good practice, for 3-4 days use AdSense auto ads and find out locations which show wrong size ads or not showing ads at all. After this process, create and use section and device specific manual ad units. Here, you need to create minimum 4 manual ads and choose their sizes wisely.
If you have confusion for ad sizes, then use responsive ad units for normal positions. And, for specific positions where you want to display fixed size ads, there you can check AdSense supported ad sizes guide.
2. Make experiments with ad placements
Experiments with ad placements is mandatory practice in beginning. All sites have some important places, where users interact more compared to other places. To find these places, you need to move your display ad positions on site. When you do this experiment, you will see change in ad unit earnings. Once you able to find best position, set ad on that place.
In this practice, you need to wait for 4-5 days to get proper results of ad unit and site location combination. It means, display ad at some place, note down 4-5 days earning results and after that move ad to another place if required. And, by repeating this practice, you can find best ad positions.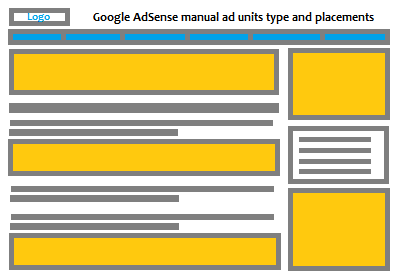 You can also get the best ad locations idea based on your site content and layout. For example, segment before or after the main menu, top of site, starting of post content and first widget area of the sidebar. These are some locations, which give good earnings by showing ads.
But,
You also need to take care about user device screen size before using some locations. Suppose, you set a common sidebar ad for desktop and mobile view. Here in mobile, that ad goes to the lower part because of limited width. So, in such cases you need to display device specific ads. It means, display sidebar ads for desktop only.
Golden rule for AdSense manual ads is to set them in such a way that ads get good visibility and look like a part of your site content. Here, also take care about space between ads and content, so users do not make accidental clicks.
3. Use ad format based on site content and layout
For ad units Google AdSense provides four options, these are "Display ads", "In-feed ads", "In-article ads" and "Search engine". Here, you need to choose ad formats based on your site content and layout. Analyse your site content and layout and use ad formats which look like a part of your site.
You can easily decide ad format for your page content by ad unit option name. For example, "Display ads" work anywhere in site, "In-feed ads" work for listing pages and "In-article ads" work between your content.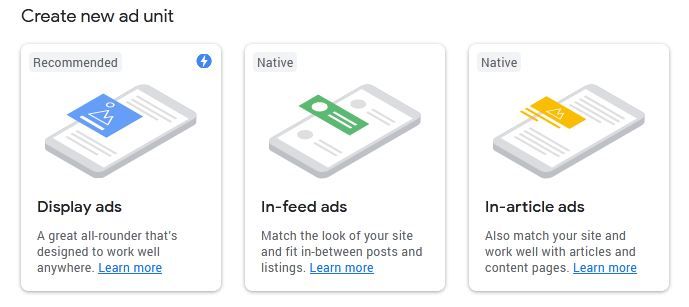 By using proper ad size and format, you can create the best ad inventory for your site, which generates more revenue. "Display ads" format ads give good results in any section and "In-article ads" work great between content. So, try to use these two ad formats more in your site, where you found more user engagement.
4. Use combination of manual ads and auto ads
As a beginner you can only use AdSense auto ads. But, after getting some experience with the AdSense ad network and its dashboard, it is good practice to use a combination of manual and auto ads on site.
AdSense auto ads and manual ads, both have their own advantages and disadvantages. But, if you display ads on your site by both AdSense manual and auto ads options, then you will be able to get maximum advantages of both options.
Here, Auto ads shows ads automatically, it also experiments with ad placements to generate more ad revenue. So, you are not required any extra steps for auto ads.
With advantages auto ads have some disadvantages, that it sometimes shows ads in wrong places which disturb user experience, or it misses some placements which possibly gives more earnings.
To overcome these situations, you can create manual ad units for missed site places or for places where proper ad format is not shown. By using this combined solution, you are able to increase site's earning from ads.
5. Display ads between post content
Ads between post content has more probability to get more views and clicks compared to other ads. If your content has more user engagement, then AdSense "In-article ads" gets more viewability. As a result, users give attention to ads which come in reading and probably clicks if it is relevant to them.
"In-article ads" ad units are designed to display ads between content. This type of ads have image and text content (It also has only image). For experiments, you can also use the "Display ads" ad unit between post content. After months of revenue results, you can choose ad formats which gives more earnings.
Here, AdSense auto ads automatically display "In-article ads" in your post. Auto ads shows ads based on post content length. But, if you find that auto ads miss valuable positions in content, then you can create and display manual ad units yourself.
These valuable placement are mostly: just after the post title, after the first or second paragraph. These positions come in top, have more viewability and come in the starting position of main content. So, you can set manual ads here, if AdSense Auto ads do not show ads in these places.
6. Setup device specific ads
Device specific ads give good earning results for AdSense ads. Responsive ad units are a perfect choice to show device specific ads. These responsive format unit display ads based on device and its screen size.
For manual ad units, you can create popular size ads for possible devices and display that ads conditionally based on device screen size. To display conditional ads, you can use plugins which support such features.
Responsive ads give you flexibility, save time and give good performance. So, if you are not using device specific ads, then this is good practice to implement on your site to increase earnings.
7. Block non related ad categories (Need experience)
Your site content related ads give better results. To manage ads categories for a site, Google AdSense dashboard has a "Blocking controls" option. But, this AdSense setting change required good experience about ads categories. So, it is suggested to use default settings, if you are a beginner AdSense user.
Here, if you analyse your site's ads and find irrelevant ads which do not generate revenue, then you can disable that ads category from "Blocking controls" settings. Also, don't worry, you can enable categories from the same setting page again.
8. Focus on organic traffic
You will get more earnings from organic search traffic compared to social, direct or other traffic sources. It means you need to make practice and focus on increasing organic traffic. Google AdSense serves ads based on audience and content. Site users through organic search are the best source for ads, which gives more ad revenue.
Site users who came from search results are really looking for something and they takes positive actions, if related ads are displayed to them. This whole scenario helps to earn more revenue.
Organic traffic is also a source of unlimited traffic, so if you focus on this traffic, you will definitely get good results in future for a longer period of time.
9. Avoid hacks and policy violation
This is a highly recommended practice to avoid hacks and activities that violate AdSense policy. These kinds of activities show short time success in earning and increase your AdSense account suspension chances.
Invalid clicks, invalid traffic, wrong ad placement, too many ads and more related activities are harmful for your AdSense account. So, as a good practice avoid such activities and focus on quality content + good user experience.
10. Manage balanced ad inventory
Site ad inventory means the number of ads in site, ad types and ad settings. In this practice you need to balance your site ad inventory. For that display a number of ads which generate decent earnings without disturbing user experience. Choose ad types(+number of ads) which best fit in your site layout and content.
If you think that too many ads on a site gives more earning, then it is not true for 99% cases. Too many ads, makes your site slow, disturb user experience and low earning. And, to fix this, try to manage balanced ad inventory for your site.
To create good ad inventory, find out ad type which works great with your content and add more that type of ads in site. Next, visit your site as a normal user and find out which ads are disturbing your site visit experience.
List out such ad places and try to reduce such extra ads from your ad inventory. Here, you can remove such ads once by once with some interval or move its placement for better results.
11. Create post with long and depth content
Blog post with long and depth content helps to rank for many keywords. Your site gets good traffic because of detailed posts which cover all possible related topics with the main topic.
This type of long content post generates more traffic and it also creates scope to display more ads to users. Long and in-depth content gets user engagement. And, ads perform great with engaged users, which results in more earnings.
How to create long post for more ad earnings?
So, in this practice, you need to create detailed and long post content. You can do this by adding post related topics subheadings in post. Or, you can create a long post by adding small topics, which are related to the same thing.
Here, the main thing is to generate content which grabs user attention and engagement. If you are not able to create a very long post due to topic limitation, then try an ad friendly post format, where you can divide content in smaller paragraphs (2-3 sentences in paragraph).
12. User and ad friendly site design
A good site design provides the best experience to users and has flexible placements for ads. But, here you can focus more on user experience in site design, because AdSense auto ads and manual ads combination can effectively manage display ads process for any site design.
In this practice, manage site design with users experience as first priority and second as ad placement priority. For WordPress platform you will get a range of theme options. But, for Blogger, if you do not get good results for default templates, then you can try other third party templates.
Good site design has good site navigation(menu, pagination) which provide linked connection to site's all pages, responsive behavior for different screen sizes, ease of content reading and good site loading time.
Here, ads affect your site speed, so if site templates have good loading speed, then it helps to maintain site load time.
13. Track and fix website issues
Website JavaScript related, UI related or server related issues affects search ranking. All this issues results in low traffic and at last decreases site revenue.
In this practice, you need to track these all website errors and issues. To find such errors in detail, you can check browser console, Google webmaster console metrics and server logs.
This is a bit technical sometimes, but you can check and clear webmaster console errors from time to time, if any errors or warnings are found. Here, you can also visit and analyse site layout time to time to fix possible issues.
14. Focus on quality content creation instead of ad earning
Quality content is key for any blog or site success. By creating quality and detailed content, you can get good rank in Google search and more page views. At the end, healthy traffic gives more ad revenue.
For every blogging beginner, this is common behavior that they focus on ad earning when get approved by AdSense. But, in beginning with low traffic, you will not get more earnings.
And,
Quality content is the only solution for low traffic and low AdSense earning. Once you start creating more and more content, site traffic automatically increases, which gives high ad earnings.
15. Link Google Analytics and AdSense
Link Google Analytics and AdSense accounts are good practices to get really helpful earning information. You can connect your Analytics and AdSense account by following simple steps.
After successfully linking both services, you can view your site earnings page wise. It means you gets data about your site's each page value. This data helps to identify the content type which generates more revenue by ads.
After page value analysis, you can plan your content creation plan. Based on the plan, you generate content, which increases AdSense ad earnings on your site.
16. Use machine learning platform to display ads
This is the time for machine learning platforms to display ads. In the market for online content monetization best platforms available, which work great with AdSense. These platforms have minimum criteria for pageviews, sessions and content. You need to satisfy all criteria to approve the site in platform.
Ezoic, AdThrive and Mediavine are popular platforms for publishers to monetize site content. You will get more earning per 1000 page views and clicks on these platforms and increase your site revenue by 250% or more.
For beginners, who are in the initial blogging stage and able to achieve 10000 page-views/month can try Ezoic. Ezoic is a great platform for beginners and advance level blogs or sites.
Use of these platforms is second stage of site monetization, but above all practices given in this post work great from beginning level to increase your Google AdSense revenue earnings.
At Last, all practices in one paragraph.
How to increase AdSense Earnings? To increase AdSense earnings, create long and in-depth quality content, setup balanced ad inventory with proper ad types and number of ads, use user and ad friendly layout theme, experiment with ad placements and choose best ad placement, use AdSense auto ads and manual ad units, avoid hacks and policy violence, switch to AI based ad platforms and be patience for good results.