Google AdSense approval tips and tricks: You will get Google AdSense application approval related best practices, suggestions and FAQs helpful information.
Google AdSense is best option for monetization for any site or blog in ad network categories. Before display AdSense ads on site, site owner have to approve site with AdSense.
If you are new to Google AdSense or your account not approved, then best site practices and simple tips tricks given in this page will helpful for you. In short, who are beginners and struggling for AdSense approval, this page gives simple suggestions to them.
Here, AdSense approval tips and tricks simple meaning is best practices and requirements, common FAQs, which helps to get quick AdSense approval.
Checklist for AdSense approval tips and tricks:
Checklist includes site best practices with detail, site basic requirements and AdSense code placement suggestions. Given information helps to satisfied Google AdSense ideal site requirements. You can check list, compare with your site and make required change to increase chance to get your site approved.
Unique and original content
Unique and original content is required for AdSense account approval and must for blog or site success. If your site has copy or abusing content, your site has less chance to approved. So, try to create useful and unique content. It will increase your site chance to get approved.
Avoid restricted content
Google AdSense not allows sites with restricted contents. For example shocking content, online gambling etc., You can check such type of content information from AdSense Help site or from YouTube AdSense channel publisher restrictions video list.
Minimum domain age
Not found any domain age detail for AdSense approval criteria. Average domain age can be 6 months for certain geo location. Suggested domain age is minimum one month before apply for AdSense.
Domain age requirement is not written in stone. It may possible, your site approve with 15 days old domain. For safe play, try to apply with at least one month old domain (more than six month old domain is best).
Site required pages
AdSense expect some pages in your site before approval. Exact list not available, but suggested or required pages for AdSense account approval are: About us, contact us and privacy policy page.
Reachable site
Sites review and AdSense approval possible for globally running site. So, if your site is in maintenance mode or not work proper, fix it before applying for AdSense. Also always double check site URL in AdSense application form before submit.
For approve your site AdSense should able to access your site normally without any restrictions. Also, make sure robots.txt file not block Google crawlers to avoid any crawler issues.
Site navigation
Best practice for site navigation means, your site should well categorize. Site have meaningful main navigation menu. Site users can easily find and access required information through navigation. In short, site pages, categories and other content pages links, need to provide in proper manner in top or in footer or in both area (based on your site layout).
Google search console
Google search console helps to get your website on Google search. Add your site to Google console is also one of best practice to quick index and give your site plus point to get approved in AdSense. Search console also have many benefits, so, it's always suggested to use it, for your site.
ads.txt
Add ads.txt file in your site is also suggested tip. You can create empty ads.txt file which can accessible from URL. File need to accessible for crawler. You can create file from cPanel File Manager or using WordPress plugin (blogger site not require any action here).
Cookie Consent
Simple thing, but suggested to properly add Cookie Consent message to your site. It helps users to understand cookie and privacy process. This feature add plus point to your site.
Policy compliant
Your site need to comply with AdSense policy guidelines. You can check more detail on AdSense policy page, if your site not approved after many tries, you definitely need to check this page.
Following are possible main reasons for violation and user sites not approved.
Low value content: low value content not allowed as per policy guidelines, try to maintain each page with meaningful and valuable content.
Replicated content: copy past or same type of replicated content not accepted. Make sure your site have unique and original content.
Deceptive site navigation: Misleading navigation from site reality. Site real content and explained in navigation not proper. Try to maintain proper navigation by site categorize content and using menu bars.
Application form information
This is step where you make sure above all or possible tips or practices implemented in your site. AdSense application form needs site and owner information. Provide accurate information and verify given information 2-3 time before submit form.
Google ad code integration
Once you provide required information, Google AdSense provide AdSense code for your site. Using this code you can connect your site with AdSense.
You need to add complete and correct code in your site before end of </head> tag. Make sure you are adding code in same site you have added in your AdSense account.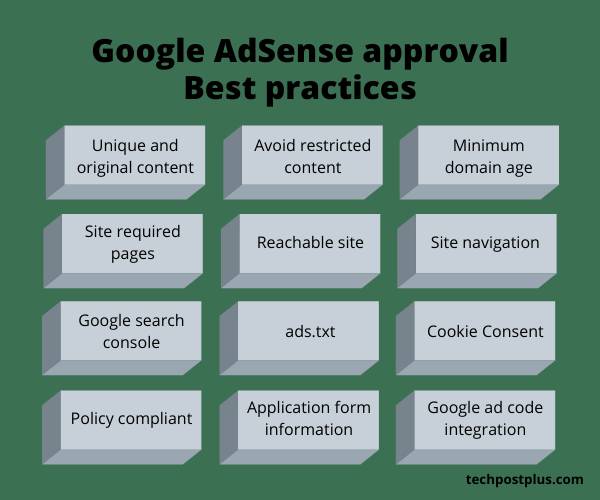 Above are simple tips and tricks which help to approve your new blog or site in AdSense program. Given tips is general and used for any site in 2020, whether it created on WordPress or in Blogger or other platform.
If you plan for use Google AdSense in your blog or site, compare checklist points with your site, so, you get successful approval in first try.
Note: given tips and tricks are suggestions based on analysis and experience. Final approval is always depending on your site content and Google AdSense review process.
FAQs for Google AdSense approval process
All site or blog owners when apply for AdSense first time, they have too many questions. Here is some frequently asked question regarding AdSense approval process. You may find your answer from it, or asked your query in comment section; it may help other users too.
How to apply for Google AdSense?
Apply for AdSense account is simple and quick process. Before you sign up for AdSense, you may like to check eligibility requirements for AdSense account here at AdSense Help support page. Following are quick steps for new site AdSense apply.
Implement best practices in your site.
Go to Google AdSense website.
Complete Sign up and application form process.
Add AdSense code to your site.
Wait for positive email reply.
What is AdSense review and approval waiting time?
AdSense account activation process begins once you submit application form. This usually takes less than a day, but in some cases can take a bit longer.
What is AdSense minimum traffic requirement?
AdSense approval mostly given, based on site content and content quality. So, if your site have good 15 to 20 informative articles, your site have chance to get approved.
How many posts are required to get AdSense approval?
There is no hard rule for no. of post. Average 15-20 descriptive well written posts with unique and original content suggested for getting AdSense approval.
At Last,
Tips and practices checklist given in this post will be helpful for blogger blog Adsense approval, WordPres blog Adsense approval and other platform blog's Adsense approval. You just need to apply it properly and wait for best results.
Helpful references