How to use Quora to find new blog post ideas: in this post you will get tips to use Quora search and spaces for keyword research and blog post ideas.
Beginner blogger problem:
If you are a beginner blogger, then you definitely face this situation, where your mind is blocked and not able to find a new blog post.
To overcome this blog topic struggle time, we already listed out blog post idea resources. Here, in this post we covered the Quora resource in detail.
Quick Quora overview:
Quora is a public question answer platform, which was founded in 2009. This platform is a general place for people to share knowledge of all kinds.
People share and get information on Quora. So, on this platform you will find questions for different topics. This question indicates what people want to know. By exploring these data, you can easily find new blog post topics.
Let's check different ways to find great blog post ideas from Quora. It will help you to make keyword research and find a range of post topics related to your blog niche.
1. Quora Search
Quora has an easy to use search bar. When you search for a keyword or title, it will auto suggest result options. These auto-suggest results includes "Search:", "Topic:" and "Space:" types.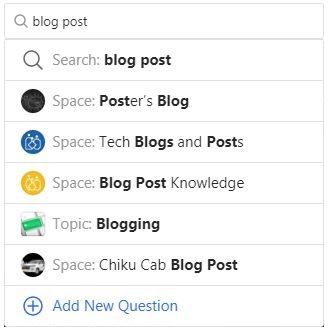 Search: this result shows your search related questions list. For example, if your search for "Blog post ideas", then this result will list questions which have this search term in it.
Topic: topic results are like the main category. This result opens a direct topic page, which includes search topic related questions, spaces and topics.
Space: Spaces in Quora are like a group page. If you select auto-suggested space result, then it will open a space page, where you can read top and recent questions in space to get new post ideas.
For a better post idea, you need to check these search result questions. You can check and list out more demanding questions related to your niche or post category.
Tip: "Search:" and "Topic:" results have useful and relevant data. You can give priorities to these two results for more relevant data and blog post ideas.
2. Related Topics
Related topics in Quora is the best platform to find unknown topic ideas. For example, you are running a blog on blogging. Now when you search "blogging" keyword in Quora search and go to "Topic:" result, it will show related topics in the sidebar. If you check these related topics, you will get too many new related / sub topics ideas to create content on.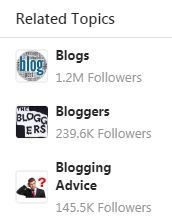 3. Related questions
When you open a particular question in Quora, you will also see the "Related Questions" list in the sidebar. These are questions, which can be helping you to understand visitor's search query intent. You can also consider these questions for your post subtopics.
4. Follow Topics Spaces Writers
You can follow topics, spaces or writers in Quora. This will help you to get your site related content questions automatically. Your following topics and spaces shown in the sidebar, so you will quickly visit and get new questions. Also, in the home page feed, you will get questions from these following items.
If you follow some best related topics and spaces in Quora, then you will definitely get a demanding content list on a daily basis.
5. Questions result filter
Quora has a very large number of questions for any topic. For popular topics, you will find too many questions in the search result. Also, all questions available in the list are not good for new blog posts.
Here, for solutions, there are good filters in the questions result page. You can filter the results "By Type", "By Topics", "By Author" and "By Time". By applying filters, you easily find new and relevant new blog post ideas.
Tip: Quora is a large question and answer platform. This definitely helps you to find new blog post ideas. When you start using Quora, it may take time to get new ideas. But, once you are used to this platform and develop your own analysis technique, you will be able to get new topics and ideas very quickly.
For now, that's it.
If you are new to blogging and have queries for Quora use, or you are already using Quora and have more helpful suggestions, then your queries and suggestions are always welcomed. You can add your valuable comment in the comment section.