To become YouTube creator different equipment is required based on experience and channel growth. Camera, computer or laptop, different video software, tripod, gimbals, lights, microphone, stream deck, channel specific gadgets and accessories are equipment for beginner to advance creator journey.
As a beginner you do not require all equipment at the same time. But, you required them with your channel progress.
Equipment list given in this post is based on different types of channels. It may be possible that you do not require all of them.
Following is a detailed guide about all YouTube creator equipment. You will get information about equipment benefits, when they required and suggestions for good equipment.
YouTube Equipment for Beginners:
1. Camera
First and mandatory equipment for YouTube creators is a camera. Camera with at least 1080p (Full HD) resolution is enough to start creating YouTube videos.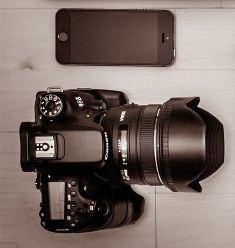 What are possible camera options for YouTube video?
Phone camera, camcorder, webcam, action camera and DSLR are possible camera options to create YouTube video.
Is an expensive camera required to create YouTube videos?
Expensive cameras are not required to start creating YouTube videos. You can upgrade based on requirement. But as a beginner, you do not require it. You can shoot good videos using normal cameras which you already have, for example your smartphone camera.
Is a personal phone camera good to create YouTube videos?
Personal phone camera is a great option for all beginners. Many popular YouTubers started their channels with their phone camera option. Current smartphone comes with enough video resolution quality. If you are a beginner and want to create YouTube videos, then a phone camera is the best option to start with.
2. Computer or Laptop
YouTube creators use a computer or laptop for editing videos, creating video thumbnails and content analysis. This is not mandatory equipment for beginner creators, but it is highly suggested.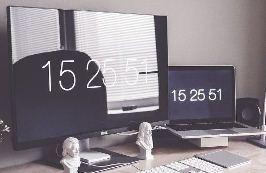 Is there any computer or laptop specification for video editing?
Computer or laptop specification for video editing is based on editing software. Software with more features possibly needs more space and processing power. Latest or last 8-10 year old computer/laptop can easily handle the video editing process.
Can I edit videos on my mobile phone?
Yes, you can edit videos in your mobile phone. In the market, you will find too many apps that provide features to edit video on the phone. So, for YouTube beginners, a computer or laptop is not mandatory equipment.
But, after getting good experience and start earning, it is suggested to shift on computer/laptop. Also, if you are serious about a YouTube career and able to invest some amount, then investment on a laptop is worth.
3. Video Editing Software
After completing video shooting, you have raw footage (small video files). To make a complete video for YouTube channel, you need to edit these video files. For edit video you need video editing software.
Currently there are many software and mobile apps available in the market. But, as a beginner you can start with free editing software and apps. In future after basic editing experience with free software, you can use paid software as per requirement.
Which are the best free video editing software for beginners?
For Mac users Apple iMovie, for Windows users Microsoft Photos and for mobile users Kinemaster is the best free video editing software. You can also check OpenShot Video Editor for Linux, OS X, Windows and Chrome OS.
Above are perfect free video editing software for beginners. You can choose any of them for the first level.
4. Tripod
Tripod works as a stand for your mobile or camera. This gear helps to create a quality video without shaky footage. You can easily set your camera on any surface using a tripod.
Good quality tripod also handles bigger cameras. If you create videos where you need the camera in a stabilized position, then a tripod is good equipment for you.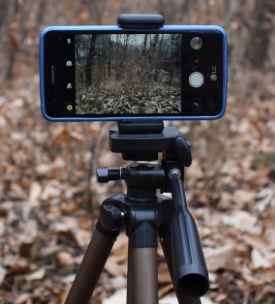 Is Tripod really necessary for beginners?
For beginners, a tripod is not necessary. You can consider the tripod as your studio equipment, when you want to upgrade for the next level. In the beginning you can create a custom camera setup for stable footage.
Which is a good tripod for beginner creators?
Good tripod for beginners depends on budget and camera (phone camera or DSLR etc.). Gorilla Pods by Joby on Amazon is a good place to get popular tripods for YouTube beginners.
5. Camera Gimbals
Gimbals provide specific shoot focus to your camera with unstable position and movements. You can hold the gimbal in hand and create stable footage while you walk or do other action activities.
So, gimbal is highly suggested equipment for beginners who need to shoot action videos. For example, tours of popular places.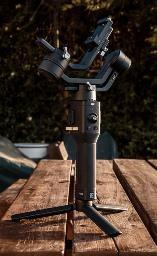 Gimbals comes with settings options and a mobile app. These settings and controls are easy to use for beginners .
If you are planning for buying gimbal, then DJI Osmo Mobile gimbal is good option.
Can I use gimbal for both stable and moving shooting?
Yes, you can use gimbal for stable and moving video shooting. For stable shooting gimbals have a tripod stand. So, before buying any gimbal make sure the gimbal comes with a stand.
6. Microphone
Microphone used for better audio quality. Audio quality is equally important as video quality. If your video has very low, unclear or poor audio quality, then there is a chance that you may lose your viewers.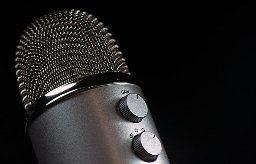 Is it a good idea to use a built-in device microphone to create YouTube videos?
Built-in microphones with phones and cameras may not be able to give high quality audio results compared to external one. But, as a beginner you can start with the built-in microphone option.
If your viewers have not found any issues with built-in mic audio quality, then definitely it is a good idea.
What type of microphone YouTubers use?
USB microphone is a popular choice among YouTubers. This type of mic works with most devices (computer, phone, camera etc.).
But, before buying any mic, it is suggested to do proper research and confirm that your device supports your selected mic.
7. Lights
Lights play an important role for video image quality. If you are shooting with a phone camera or with another normal camera, then good lighting helps to create good quality footage.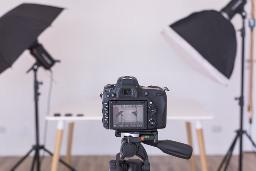 Basic light equipment is not too costly. As a beginner you can start with budget light options or you need to set up a studio where you have good light availability.
For beginners ring light or LED light is budget lights which gives good results. You can also start with window sunlight.
Good places to buy lighting equipment
Local DIY stores and online shopping sites are possible places to buy good lights for your studio setup.
What are different lights used to create good YouTube videos?
Flat light, broad light, short light, split light, different back lights, butterfly light and loop light are different types of camera lights. You can also categorize them by directional lights and diffused lights.
If you do not have a good idea about light selection based on your setup, then you can find it by doing good research on the web and YouTube. Here, light which gives good video results is best for you.
8. Background accessories
To set up a good background you do not require specific equipment. You just need to find a good place where your equipment perfectly fits. For making video background more presentable, you can use LED lights, pictures, wallpapers and other related accessories.
In the beginning you can focus on creating video content, but after shooting some videos you can improve your background regarding your content.
You can take background ideas from popular YouTube channel videos which are related to your niche.
9. Encoder (Live Streaming)
Encoders are advanced level equipment for YouTube live streaming. By using encoderes, you can capture video with your desktop, camera, microphone and more tools, and send it to YouTube live. These encoders can be computer software applications or stand-alone hardwares.
But,
As a beginner, you do not require advanced level encoder equipment; you can create live streaming video using your Webcam or mobile.
So, if you want to start a YouTube channel with live stream videos, then you can start with your mobile or Webcam.
YouTube live is a great option for real time streaming video. You can create gaming live stream video, live event video or teaching video with simple mobile or your laptop camera.
In future you can definitely go for encoders and other online services to create advanced level content.
Also, to get helpful information (Enable live streaming, Guide to use camera and Webcam for streaming, Encoder live streaming) check out YouTube's Live streaming on YouTube page.
Last thought,
When you start creating video content, you will automatically start learning new things and understand what are best and required equipment for you.
So, don't wait for perfect equipment and just start creating videos with equipment which you already have.