Beach Buggy Racing game Tips FAQs and Solutions: you will get helpful info and tips for Beach Buggy Racing game play in phone, console and switch.
Beach Buggy Racing and Beach Buggy Racing 2 are two versions which are released by Vector Unit. These games available in Android, iOS, Xbox One, PlayStation 4, Windows Phone and Nintendo Switch.
Here, we list out game related frequently asked questions with detailed answers. If you are a Beach Buggy Racing game user, then you definitely like to read this post.
Following are FAQs, tips and solutions for action packed Beach Buggy Racing (BBR) and Beach Buggy Racing 2 (BBR2) off-road kart racing games.
How to do Jump Start in a Beach Buggy Racing Game?
Game users can jump start in the Beach Buggy Racing game by tapping the Powerup button. Gamers need to tap a button just before the countdown says "Go!!".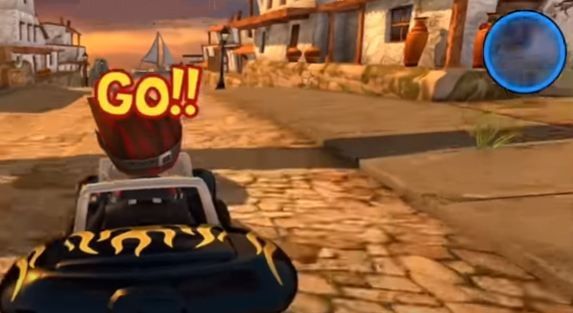 In countdown you will notice near to 1 second gap between count "1" and "Go!!". Game countdown shows three dots "…" in this gap. You need to ready when three dots shown in countdown. After this try to tap Powerup button right before screen shows "Go!!". Once you tap on right time, your car will jump forward at the start of the race.
Note: If you press the Powerup button more than one time, jump start will not work.
Powerup button depends on your controller. Following are button details for different controllers.
Keyboard: SPACE key, Touch screen: Blue circle in top right corner, Apple TV: Select button. For other controllers (Nintendo Switch, PS4, Xbox One) you can refer to related settings.
How to Do Drift or Powerslide in BBR2?
Racing game users always like to drift while racing. In game drift also known as powerslide. In Beach Buggy Racing 2 game you can generate powerslide effect by tap the brakes while you are turning. Game shows some glow effect on the wheels, when you do this. It means you are doing powersliding.
How to Play BBR2 with Friends on a Mobile Phone?
Currently many games have a multiplayer feature, where you and your friends play together in one race/level. The Beach Buggy Racing game has a split screen multiplayer feature. It's not the same as online multiplayer, but, in this feature 2-4 players on single device, can race against each other.
Local split screen multiplayer feature is not available in BBR2 mobile version. But, you can wait for the console/PC/TV version.
Beach Buggy Racing 2 Game is Online or Offline?
Beach Buggy Racing 2 Game does not have offline mode. You need an online connection required to play BBR2. So, it is not an offline game.
BBR2 Game required an online connection for maintaining player game backup and to connect a player with races. Beach Buggy Racing 2 is an online game, but a bit different compared to other online multiplayer games.
How to Unlock New Cars in Beach Buggy Racing 2?
You can unlock new cars in BBR2 from a car challenge, daily challenges or you can buy them for gems.
Car challenge start appearing from player level 3(three). You can unlock the car by winning this challenge.
Daily challenges available from player level 4(four). You can beat the challenge and unlock a new car from spinning reward wheel.
On the Team screen, you can buy new cars using gems.
Above are three possible ways to unlock new cars in BBR2 game.
If you have more questions to add in Beach Buggy Racing 2 and Beach Buggy Racing game FAQs list, you can ask in comment section. It will also help other users too.
This post is for BBR/BBR2 game user help purposes only. This site/blog is not endorsed by or affiliated by Beach Buggy Racing. All Trademarks are the property of respective owners.