In Blogger blog, you can upload image media files from the blogger post editor. Now, if you want to delete any image file, you will not get an option in your Blogger dashboard.
How to delete Blogger blog image files?
You can manage Blogger blog's image files from Google Album Archive. Here, you will get image albums based on your Blogger blog name. You can open your blogs album and delete blog images one by one.
If you are a technical person, then you will understand the process from the above quick answer. But, for a more step-by-step guide with images, you can check out the following things.
How to Delete Uploaded Image from Blogger Blog:
1. Open Google Album Archive page and login
You can delete Blogger blog images from Google Album Archive page. In the first step open Google Album Archive page and login with your Google account.
Here, you need to login with Google email, which is associated with your Blogger blog. Once you successfully login, you will see image groups with different categories.
2. Go to "Photos from Blogger"
Now, after login into Google Album Archive, you will get your uploaded images group list. This page shows Blogger blog images, YouTube channel art images and more.
To open your blogger blogs images albums, you need to open "Photos from Blogger" group. Here, you will get photos & videos uploaded to Blogger.
3. Open Blogger blog album from list
Next, to delete your blog's image, you need to open a particular blog's image album. In the current page your Blogger blogs album exists with the blog name. Here, find and open your blog name album, from where you want to delete unused images.
Why Blogger blog album not shown in Google Album Archive?
You will get a list of your all Blogger blog albums in Google Album Archive. But, if you changed your blog name and are looking for an album with a new blog name, then in that case you need to check for the album with the blog's name which was used on blog creation time.
It means, your Blogger blog name change affects only Blogger. Here, in the Album Archive, your blog's album name has not changed. It remains as it is with the initial blog name.
4. Click on photo and delete from three dot option
In your Blogger blog's album, you can see all your uploaded images. Now, to delete any blog image, open that image by single click.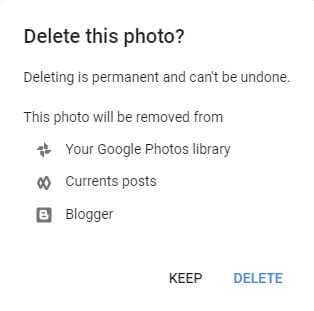 Once, image is open in full view mode, you will get three dot "More options" on the top right corner. Next, open that "More option" and click "Delete photo" option.
Now, Google will ask for "Delete this photo" confirmation. Once you confirm and click the "Delete" option, your Blogger blog's image will be deleted.