Useful information for YouTube intro maker. Basic definition with importance of YouTube intro. Best YouTube intro maker online free tools to make professional intro video.
What is YouTube intro?
YouTube intro is beginning portion of video which introduce brand of video. Intro part is short and shows YouTube channel as brand with visual and sound effect.
How to make YouTube intro?
YouTube intro can be creating in many ways. You can create by free tools or by paid video templates. Free online YouTube intro template comes with watermark in most cases. Paid video templates have high quality video effect with unique style.
There are many online YouTube intro makers available in website and mobile application format. Here we list out some of them in next sections.
More from this, you can create YouTube intro by your own style as like you create normal videos.
Free online YouTube intro makers
Free online YouTube intro maker: people sometimes also search like "YouTube intro maker free online".
Good intro part in video can bind user and user keep watching your videos longer. So, make best YouTube intro is always required. Too many amazing YouTube intro maker tools available online. Most of are paid, but provide free plans with limited features.
Let's check best YouTube intro maker which are totally free or having free plans with limited features.
#1: Renderforest
Renderforest is online video, animation, logo, and website maker. Renderforest provides amazing tools to create professional intros and promotional videos.
Renderforest Video is a cloud-based video maker for creating intro videos for YouTube. Renderforest have impressive client project and reviews record. Simple learn tutorial and process help in create eye catching YouTube intro.
Renderforest intro maker have list of video templates to fit any kind of YouTube channel needs. This video intro maker gives paid and frees both plans.
Free plan comes with limited (video time, music tracks, and watermark) features.
#2: Canva
Canva provide free intro maker service for YouTube. Canva gives free and pro both options in video creation process. If you want to create free intro video, you need to select free resources (images, music, animation etc.,) in process.

Important thing for Canva free intro maker and video is no watermarks. Right, you can create and download free intro video without any watermarks in video.
Canva YouTube intro maker features: List of amazing intro templates. Upload and use your own media files. Large list of images and element to use in video. List of text, music and videos to gives your video professional effect.
Creating intro video using Canva is simple and quick. Site also provides steps and guide to create YouTube intro. You can check this site to design anything.
#3: panzoid
panzoid Powerful, free online tools and community for creating beautiful custom content. Panzoid provide intro maker, creations, video editor, clip maker and backgrounder features.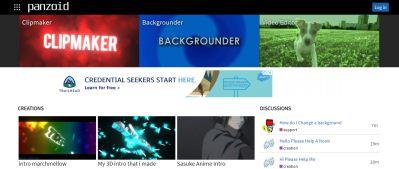 User can select Intro template, edit, play and download. Panzoid is free online YouTube intro maker. As a free tool it provides best video samples.
Tool shows advertisements in editing process but it's not an issue at all. User can edit and create own intro video without any disturbance.
#4: LightMV
LightMV is a free online slideshow maker with music, which offers free video templates to help you make a video with pictures and music in the cloud.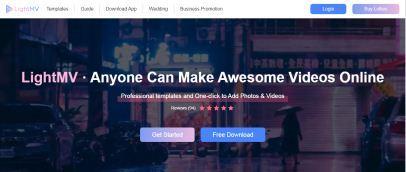 Following are steps for create video using this tool: Select template, add photos and create video. User needs to login in site before create free intro video.
Video format in LightMV is like slide show and animation. Tool has amazing templates which will best fit for user requirements.
#5: VideoCreek
VideoCreek is a free intro maker. No software needed to create video intros.
VideoCreek easy step-by-step video maker tool create amazing YouTube intro videos.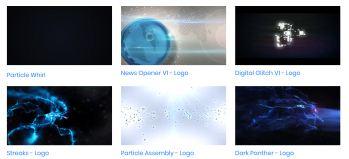 Free video comes with 240p quality and small watermark. For download video user need to provide name and email.
#6: Placeit
Placeit video maker is good free online tool if user not have any problem with watermark in video.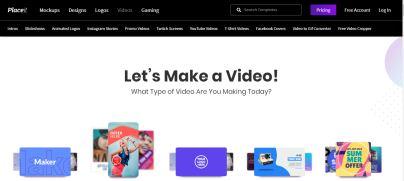 Making an intro video or outro is now dead simple with Placeit's Intro Maker! All you need to do is pick a template and customize it to get a professional video.
Free version video by Placeit comes with watermark.
#7: Videezy
Videezy is actually not online video maker, but it listed here, because it gives option to view and download royalty free stock videos.
You can search intro animation video in Videezy and get nice video clips for your intro video. You can download and use small animation video from this site and prepare your own intro video by adding your channel logo and text using some tools, which you are using for, generates video.
#8: TUBE ARSENAL
Tube Arsenal has best collection of YouTube custom intros. You can select and customize intro template online. Tube Arsenal is not free. Intro template offered by this tool is really awesome and this is main reason that this tool included in list.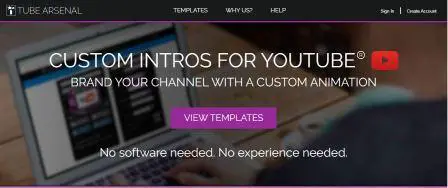 This tool provides no-software solution for video creation. You just need to select template, change text, color and picture as per your choice. Here, you need to sign in for review your customization change.
You can visit Tube Arsenal for following reasons. Reason 1: you want best YouTube intro video for your channel branding and ready to spend some bucks. Reason 2: you want to check best possible intro video idea and template for reference.
How to make YouTube intros for free?
Making free YouTube intro video needs more efforts. Available online tools have free plans, but most of stamp watermark in final download video.
One handy suggestion is to prepare amazing effect slide template and convert it to video. Also when you search more, you will found some software which you can install and create free YouTube intros.
Free apps for YouTube intros: As per our analysis, available apps for intro maker gives free video with watermark and take charge for removing watermark.
Check out our Free online YouTube intro makers list in this page for free intro video tools.
What is an online intro maker?
Online intro makers give facility to create best intro or brand video with logo and text. These intro makers have list of intro video templates. Users just need to select and update logo, text and effects to create intro video.
Benefits of online intro makers is that user not required special skills and all things done online. No installation and complex manual process required from user side.
Mostly all online intro makers give service with specific paid plans. Some of them have free plan with watermark in logo. Also there is limited access in free plans.
Given list and FAQs is for online YouTube intro maker websites. If you want to check another option, i.e., intro maker Android apps, then you can check "Best Intro Maker Apps for Android" post on this site.