Post includes complete guide for YouTube unlisted videos. You will get information for unlisted videos, means, what is unlisted video, is channel subscriber can view unlisted videos, how to upload unlisted video, how to share this video and more.
If you are a beginner as a YouTube creator and want to know more about unlisted video privacy settings, then you will knows everything about unlisted video from this post.
Unlisted is video status on YouTube. By setting your video unlisted, you can hide your video from YouTube search, related videos, recommendations, channel and subscriber feed. Unlisted videos can be shared by video link to specific audiences.
Let's check out YouTube unlisted videos things in detail,
YouTube Unlisted Videos (Know Everything):
What is YouTube unlisted video?
YouTube video who's "Visibility" is "Unlisted" called unlisted video. Unlisted videos are not available in YouTube search, related videos, recommendations, channel videos and subscriber feed. These videos can be seen and shared by video link.
So, unlisted visibility is video privacy setting. Unlisted videos have centered visibility between public and private videos. It means, these videos are not accessible directly by the audience and creators can share it via link.
Here, with unlisted visibility channel owners have both advantages; first video not publicly available and owner can share it whenever required.
How to upload an unlisted video on YouTube?
You can upload unlisted video normally, same as other public or private videos. But here, in the video upload process (Details, Video elements, Visibility), you need to choose visibility "Unlisted" in "Save and publish" option. By doing this, your video will upload as an unlisted video.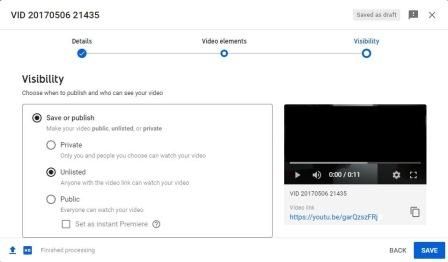 Can I change unlisted video's visibility to private or public or vice-versa? Yes, you can change your YouTube videos visibility from the edit video details page. Here, you can make your unlisted video public or private.
Note: if you make your any public video unlisted, in that case, if viewers stored that video's link, when video available for them, then they can access video by that link.
Can YouTube subscribers see unlisted videos?
No, YouTube unlisted videos are not available for your channel subscribers, unless someone adds your unlisted video to a public playlist. But, your channel's subscribers are unable to see unlisted videos in the video list.
These unlisted videos have private visibility until the video's access link is not available to any user.
So, here if you upload a video with unlisted visibility, then it will not be seen by your channel subscriber as like other public videos.
Do subscribers get notified of unlisted videos?
No, YouTube channel subscribers do not get notification for uploaded unlisted videos. Your unlisted videos are also not shown in subscriber feed.
Unlisted video visibility is a good option to upload video on YouTube with controlled visibility. You can upload this type of videos without notifying your subscribers.
How to find unlisted YouTube videos?
Find your own channel's unlisted videos: You can find your channel's unlisted videos by "Filter" option in the channel content video listing page. For finding unlisted videos, click on "Filter" and choose "Visibility" option. Next, tick the "Unlisted" checkbox and click "Apply". Now, you will see only unlisted videos in the list.
Find someone other's channel unlisted videos: there are no accurate solutions to find unlisted videos other than your channel. Unlisted videos can be only accessed if you have a video link and it will be available if the video owner shares with you or you find a link from another source.
How to share a YouTube unlisted video link?
You can get and share a YouTube unlisted video link in multiple ways. Here are three simple ways to share unlisted video.
YouTube Studio videos listing page: open videos listing page in YouTube studio, go to unlisted video in list, click options (three vertical dot icon) near video and click "Get shareable link". Now, the video link is copied in clipboard and you can share it, where you want.
Edit video page: to share unlisted video from edit video page, first open edit video page, now, you will see "Video link" in right side with copy icon option. You can copy the link from here and share anywhere.
Watch video page: as a video owner, you can open your unlisted video watch page. Here, in this video page, you will get the "SHARE" option as like other normal videos. You can directly share an unlisted video where you want.
What to do if my unlisted video link is publicly exposed?
You can try following practices, if your unlisted video link is publicly exposed.
Make your video visibility private: once you change your video visibility private, your video will be available only for you and not accessed by other users even if they have a direct link.
Note: if you want to continue access for some users, then this solution will not work for you, as private videos can be only access by account owners. In this case, you can try the following solution.
Re-upload unlisted video and delete older one: you can re-upload the same video on YouTube with unlisted status and share a new link to your specific audience. After completing the process, you can delete that publicly available video.
Here, you can take action based on video content privacy and its current use.
How to watch unlisted YouTube videos on app?
You can watch unlisted videos on YouTube app in two ways: First, open the YouTube app, go to "Library > Your videos" and watch an unlisted video from the list. Second, get your unlisted video link in your mobile and tap on it. Your mobile will open that link video in the YouTube app.
Here, for first way, you need to login with a Google account which is used with your YouTube channel where unlisted video was uploaded.
At Last,
Check out this YouTube Help video privacy settings page for more information. It's a reference link, you check for more detail, if the exact solution is not found from this page.